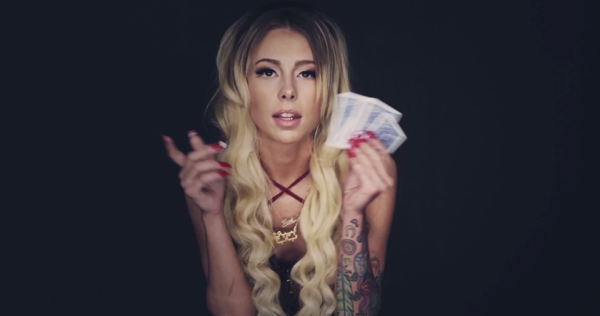 When I first saw Lil Debbie, I was introduced to the cute, short, brown-haired girl from White Girl Mob. She wore glasses and had cool ass tattoos. I was hesitant when buying her ticket. I didn't know much of her music and I didn't buy  California Sweetheart Part 2. However, I always liked Lil Debbie's singles, so I gave it a shot. When I got to Webster Hall, I was pleasantly surprised. The venue wasn't super packed and the concert venue had an intimate setting. Some fans were sitting down smoking Mary Jane, while other fans were turning up with Lil Debbie's first opening act. The woman singing was a cute redhead with lots of energy. Next to hit the stage was a rapper, named Chi City. He was a chubby, handsome dude, who got the crowd jumping.  He performed a few songs, while his team shot and recorded the crowd. The highlight of his performance was the twerk competition he insinuated amongst the female fans. "Who wants to chill with Lil Debbie," he yelled to the crowd. The girls went wild. He chose a few girls with their hands raised out of the crowd to partake in the Twerk Competition. The winner of the twerk competition got to go backstage and chill with their beloved Lil Debbie. All the girls were excited and put everything in their individual performances. Sadly, most of the girls lacked rhythm and was booed off the stage. However, two girls emerged victorious and were chosen to chill with their idol backstage. The rest of the girls including me were super jealous! After the twerk competition, Chi City performed the rest of his set and introduced the main attraction herself.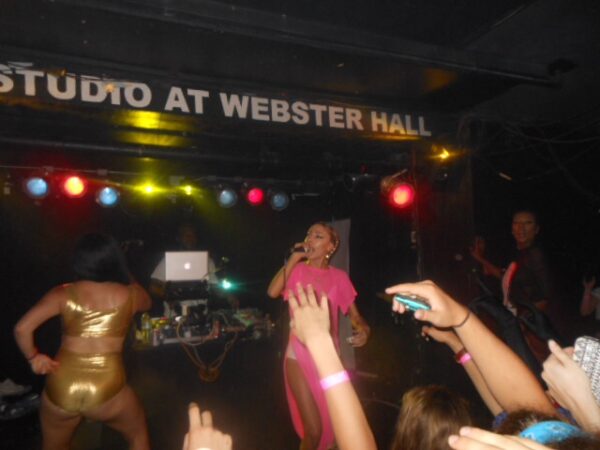 Lil Debbie came out in a cute,  pink see through shirt/dress and the crowd went berserk. She was accompanied with her personal twerker and friend, Remy and pretty tall twins. Her hair was braided in two cornrows (extensions, of course!) and her many arm tattoos were on display. Before performing, she explained to her fans, how she recently was released from the hospital, but is feeling better now and ready to turn up! Even though, she was under the weather, she didn't want to let her fans down. She started off the concert with her older stuff. Making sure her fans were satisfied, she asked the kids in the crowd what they  rather hear her perform first. Once Lil Debbie started, the crowd got even more pumped. They knew all the words and sang along with every track.
Many entertainers love their fans, but Lil Debbie lives for her fans. Watching the show, I saw how reckless the crowd was. They were pushing and shoving the entire time. Nothing new for a New York crowd, but they were super aggressive. I believe it was their passion mixed with a little bit of crazy. Many mini arguments broke out amongst the fans, but no one physically fought. One thing I found interesting about Lil Debbie's concert was the fact people were rollin' up blunts just for Debbie to smoke. Lil Debbie smoked every single blunt that came her way. Puffing smoke in her mic, she exhaled the weed smoke while she rapped her lyrics.  Fans were crying as she smoked their blunts and performed her album.
Lil Debbie's music is definitely the definition of cute ratchet twerk music. Besides her hot twins twerking onstage, her right hand man, Remy was putting in work! Every song Debbie rapped, Remy had a crazy twerk dance move to go with it. I had the pleasure of sitting  right in front of Remy the whole night.  Towards the end of the show, Lil Debbie hand-picked a couple of girls to get on stage with her. The girls squealed with excitement while they were escorted on stage. She gave the girls on stage some rules, no pictures on stage, give her personal space and if you're not twerking get the fuck of the stage! Surprisingly, I ended up on stage with the rest of the girls. Don't get me wrong, I'm not the worst twerker, but twerking on stage in front of a crowd of people is totally out of  my character. I felt super awkward on stage, but I decided to dance anyway and go with the flow! Besides, everyone and their mother lacked rhythm next to Remy and the hot twins anyway. She ended the show with my favorite song  "Slot Machine," and I couldn't help but sing along and get ratchet!
If I had to rate this concert, I would rate it a 4.8 out of 5. I can honestly say this was one of the most ratchet concerts I've ever been to and I loved it.  The  energy was high the entire show(for more than one reason lol) and anyone could enjoy themselves at this show. Guys would enjoy all the twerking on stage and girls would enjoy the feminine vibe of the concert. Lil Debbie LOVES her fans and that is eminent in her performance that night. She made sure her fans were satisfied the entire show and even performed crowd pleasers more than once.  Just like myself, even if you're not familiar with all of Lil Debbie's music, you will end up buying her music right after her performance. Not only did I re-watch all her music videos on YouTube that night, I bought California Sweetheart on iTunes. She truly is an awesome performer and exudes coolness and attitude on stage. I honestly believe she brings her music to life in her performances. The only reason I took off 0.2 of a point is because the crowd was way too aggressive for my liking. Even though, I sat on stage for most of the performance, my shoes got wet because a drunken fan spilled beer on me and some perv grabbed my butt when I was in the crowd. Both things obviously weren't Lil Debbie's fault, but tainted my experience  a little. Overall, I enjoyed myself and was super happy and satisfied that I bought the ticket. Did I mention the ticket was only $15 dollars, courtesy of Webster Hall?! This definitely was the best $15 dollars I spent all summer!
Follow Us on Twitter and Instagram @MEFeater
Subscribe to our mailing list