Donald Glover may be one of the next EGOT honoraries within the next decade. For those who aren't aware, EGOT is an acronym for Emmy, Grammy, Oscar, and Tony (theatre).  Those four awards are by far the most prestigious and only given to the talented and deserving. Donald Glover, in particular, has accomplished enough to potentially claim the EGOT. We gathered reasoning to back this up.
Donald Glover has never been a one-trick pony, but it is obviously clear that his talents have been all over the place in recent years. Ever since he left NBC's popular show Community in 2014 by his own choice in early 2014, he has been devoted to building his brand with his own original creations. He has undisputable risen his popularity in multiple facets in the last four years.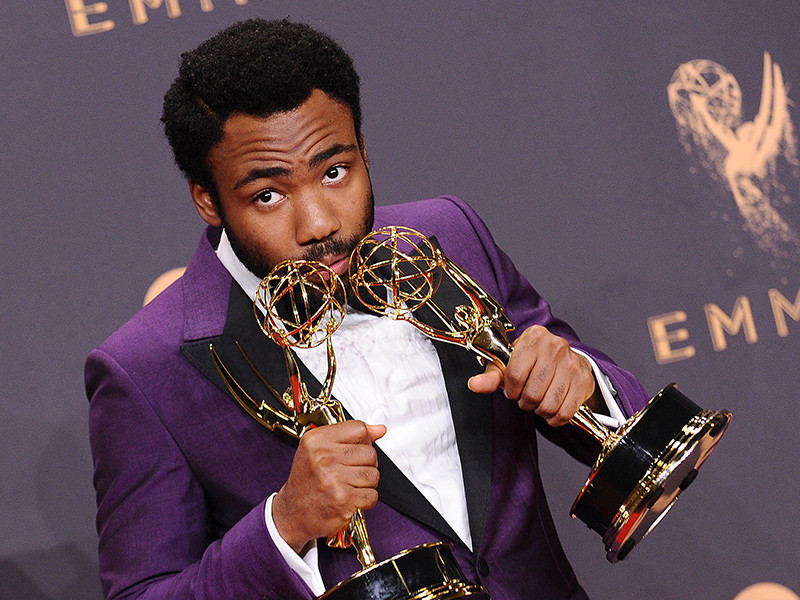 During this year, Glover was awarded two Primetime Emmys for his exceptional for his show Atlanta in which he stars and directs. He made history by being the first black male to win the prestigious award for Outstanding Directing for a Comedy Series. It's an incredible feat, and with FX's Atlanta being confirmed for the second season for 2018, he is sure to win even more.
Donald Glover is also widely known as rapper and singer Childish Gambino. On November 27th, The Recording Academy announced the nominations for the 60th annual Grammy awards. Glover has the wonderful opportunity of winning 5 Grammys at the most for his nostalgic yet experimental album Awaken, My Love. The massive hit of the album, "Redbone" is in nomination for three awards. Although this is not the first time he has been nominated for a Grammy. He has however been nominated for three Grammys for his work on his breakout project Because the Internet in 2015.
In the film department, he was yet to make a definitive mark, but he has big things planned in the future. The first thing is him playing the role of Lando Calrissian in Solo: A Star Wars Story. It is indeed an important role as it could lead him to win an Oscar for being a tremendous supporting actor. Although this could happen, it isn't clear how much of a vital role Calrissian has in the story. Fortunately, he was selected to be the lead for the live-action Lion King remake. Being cast to voice the admirable Simba. If he gives an amazing voice acting performance in such an anticipated film, the award will be his to claim.
Donald Glover currently has no credits in his arsenal for a Tony award. Perhaps, if he wins three-fourths of the EGOT within the coming years, he would at least give it a try. That would only be the case if he finds the attempt to be worth it. Stage acting is often an awkward and difficult transition for screen actors.
Regardless, we have high hopes for Donald Glover winning a Grammy and possibly an Oscar in the future!