Playboi Carti and Pi'erre Bourne created a world like none other.
Playboi Carti is certainly doing something right. His rise to where he stands now in the rap landscape has been rather slow and steady compared to how quickly his newer contemporaries move through the ranks. Yet, his long period of notability in this "SoundCloud era" afforded him to be known as one of the few rulers in this unfairly disregarded faction of hip-hop. Before the release of his new offering, Die Lit, the Atlanta rapper only had one project to his name within the span of an almost four-year rap career. Since his affiliation with AWGE became official in 2015, he was extremely seldom with song releases; only to appear on other people's tracks on occasion. Not many rappers would be able to afford the luxury of being so quiet, but this uncommon silence is what makes Playboi Carti so intriguing.
Summer of 2017 underwent Carti's reign through the smash hit "Magnolia" off of his self-titled mixtape. It was a track that feasted on one of producer Pi'erre Bourne's most impressive outputs of that period and Carti's magnetic, energizing and infectious ad-libs. It was a song that was the embodiment of modern charisma, like the rest of the project. This was intended to be his introduction to the world, a song that was free-flowing and not concerned with making any kind of statement that requires a deep-dive. Like most of the other tracks, it's main focus was expressing the personality of the emcee and being as fun and gripping as possible. He succeeded, but it appears that he still wanted to take it up another notch.
Many listeners and fans likely would not speculate that Playboi Carti's next project would not be that different from its predecessor. Die Lit, his debut studio album, came without much warning. This album is ultimately more focused and darker than we ever heard him before. Pi'erre Bourne, who is at hand for most of the 19 tracks, constructed a realm of menacing beats with futuristic senses. If this album had been to revealed to have traveled back in time from 2028, there would not be much surprise.
The production of this album is its greatest feat. Credit is to be giving to Bourne's innovation and Carti's impeccable ear. The sounds capture's the spirit of hours after midnight in such an imaginative way. This project is 58 minutes of thrill thanks to the sonic world it has built.
Carti approached this group of instrumentals unlike any other that came before. Since 2014, he has been gradually less concern with verses and more concerned with repetitiveness and ad-libs. A person could read the previous statement and rightfully believe that he became a worse artist. This is not true.
 He developed a genius formula that helped create his best collection of songs to date. The hooks on this project are so repetitive that it forces the listener to give in to the overall presence and nature of the album rather than seeking merit they most likely would not find within the lyrics. Last year Black Thought, a rapper who is historically heralded for his lyrical brilliance, compared mumble rap to scatting.
Carti created a world where it does not matter what he says, only how he says it. His vocals fuse with the instrumentals insanely well to the point that you notice when something lost when a featured verse came on. It's like you were in a deep trance before the hypnotist snaps their fingers for you to gain control over your mind again.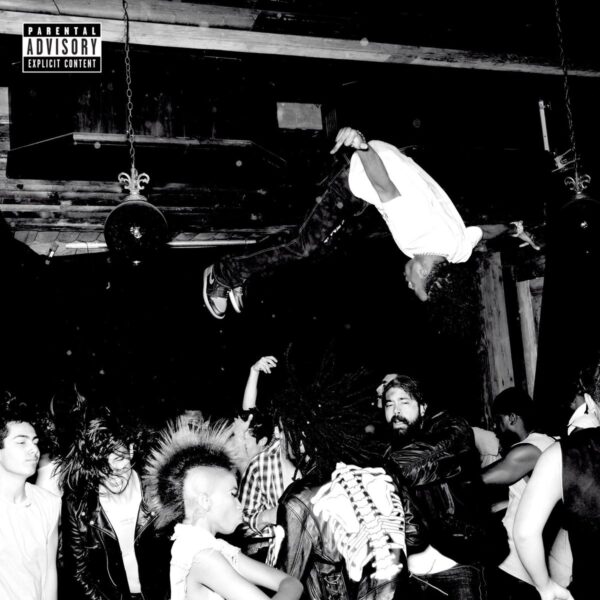 His voice matches with the sounds and it doesn't matter if you can understand him or not. Everything about this project just works to the point where there is not much to critique unless the spell does not work on you. If the spell fails, most of it would just sound like discombobulated noises leaving you wishing for the Carti you heard on previous efforts or something unlike his style at all.
The whole project is mostly murky at times but there is a triumphant energy that appears on "Shoota" a song that further insists that Lil Uzi Vert and Playboi Carti are one of the best duos on hip-hop right now. This is also a moment where Carti's rapping is the most coherent. This energy is also on the stellar intro track where he repeats the compelling line "I ain't feel like this in a long time." The follow-up, "R.I.P" contains the quote "made a mill off that mumbling shit." A statement that more and more rappers can probably make, but not many of those rappers would produce an album as cohesive with this one.
What's your favorite song off the album?' Leave a comment or we're on Facebook, Twitter, Pinterest, & Instagram! ?