From the largely inaccurate details of Nat Turner and the events surrounding his insurrection to Nate Parker's dark past coming to light, "Birth of a Nation" seemed to up against all odds at the box office; and as many predicated it would it, it bombed.
Here are 5 reasons why "Birth of a Nation" did not do well at the box office:
Nate Parker's rape controversy: Amidst the release of "Birth of a Nation", Nate Parker's rape case came to the forefront and dominated headlines. Nate Parker and his wrestling teammate, Jean Celestin were accused of raping a female student in 1999. All parties involved were students at Penn State at the time. The two men are arrested and charged with rape, involuntary deviate sexual intercourse, sexual assault and indecent assault. Parker posted bail of $25,000. The female filed harassment complaints against Parker and Celestin and even attempted suicide, twice. After a three-day trial, Celestin was found guilty of sexual assault while Parker was cleared of all charges. He transferred to Oklahoma State and graduated in 2003. In April 2012, the female involved committed suicide in a rehab facility.
The details of this incident and trial are very shocking and disturbing. This controversy only hurt the "Birth of a nation" release and Nate's public image. To make matters worse, Nate spoke about the incident to Variety and said "Seventeen years ago, I experienced a very painful moment in my life. It resulted in it being litigated. I was cleared of it. That's that." His response was widely criticized as it seemed to lack any empathy for the female involved. From then, the general public seem to have crossed "Birth of a Nation" off their 'movies-to-watch' list.
Gabrielle Union's comments: It was sadly ironic that Nate Parker's rape accusations became the most talked about topic leading up to the premier of "Birth of a Nation". Parker's "Birth of a Nation" costar Gabrielle Union (playing a woman who was raped), a rape survivor, opened up about the Nate Parker accusations. Union told the LA Times "As important and ground-breaking as this film is, I cannot take these allegations lightly." Following her comments, many people felt like they had to choose sides -Gabrielle Union and millions of other rape victims or supporting the accused? And even though Gabrielle Union never publicly bashed Nate Parker or the movie, many people agreed with her comments and decided, on their own, to boycott the movie.
Historically inaccurate: Putting away all the drama that surrounded Nate Parker, many people thought that "Birth of a Nation" looked promising. Following the rave reviews at the Sundance Film Festival, we all assumed it was going to be amazing. "Birth of a Nation" writer, Nate Parker promised to tell the true story of Nat Turner, the leader of the bloodiest slave rebellion in United States history. This story being brought to the big screen was long overdue and timely, considering the racial tension that exists in America. But "Birth of a Nation" was a letdown and did not, for the most part, accurately depict the life of Nat Turner or the events of the rebellion. The depictions of Nat Turner's relationship, his life as a slave and the events of the rebellion are made-up, for the most part. Turner did not murder his owner, his rebellion was not betrayed by a boy, the shootout shown in Jerusalem, Virginia, never happened etc., etc. Nate Parker admitted that "nothing is ever 100% historically accurate" and while that is true, a large portion of this movie was just spreading propaganda.
The Portrayal of Women: The superstar women in "Birth of a Nation" (namely Gabrielle Union and HTGAWM's Aja Naomi King) were simply used for Nat and Nate's purposes in this movie. The women, who played a significant role in the real rebellion, were silenced in this film. A turning point in the film is when "Cherry", Nat Turner's wife played by Aja Naomi King is raped by a group of slave patrollers. This attack later inspires Turner to rebel. There is no historically records to prove that Nat Turner's wife was raped or that an event of that nature sparked the rebellion. So why make it up? After this scene, Aja basically disappears from the movie. The same goes for Gabrielle union's character, Esther, who is passed around, sexually, from man to man. She is raped for a final time by her master, comforts her obviously traumatized husband and then she vanishes from the movie. Earth to Nate Parker but even in those days, black women were more than broken, insignificant victims.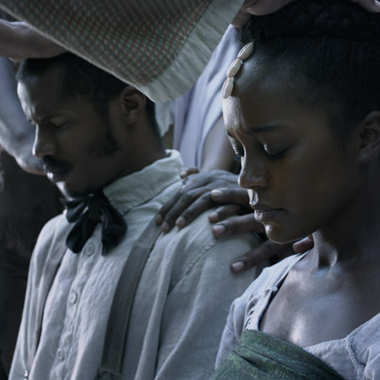 Writer/Director/Actor deficit: As the writer, director and lead actor of "Birth of a nation", Nate Parker seemed to have over-extended himself to the point where he burnt out. He failed to communicate just how important this story was and just how much of an icon Nat Turner was. The story was fabricated in many parts and lacked aesthetic cohesion. I can't say if this is showing the incompetence of Parker as a writer/director (we all know that he's a great actor) but the movie seemed to lack something and didn't really add to his credibility in the Film Industry.
Of course, there were some accurate events that were told in this movie and of course, there were some positives but the circumstances and the controversy surrounding "Birth of a Nation" were negatives that overshadowed them. Nat Turner's story is an important one that deserves to be told in a way that will do him justice. Thanks for trying, Nate Parker.