A Round-Up of Menswear/Streetwear designers that you oughta know with Guest Contributor Anthony J.R.!
Fashion is a creative medium that has no rules which makes the craft so exciting yet engaging.  There is power in being able to create impactful moments in time with a great collection or thought-provoking pieces. Joining me with this menswear countdown is Seattle, WA based Multimedia Personality and Owner of Laidback Allure Lifestyle Brand, Anthony J.R.  With this list, Anthony and I wanted to highlight menswear/streetwear brands who we believe are making lasting impressions with their clothing lines. Here are the selections:
Pyer Moss
"Created by Kerby Jean-Raymond, this upscale luxury streetwear brand became more notable back in 2016 during its menswear runway show at NYFW. The fashion show highlighted the BLM Movement, police brutality, and shared the stories of what we Black people experience on a daily basis. Pyer Moss has collaborated with Reebok, showcasing what the brand's take is on athletic street-style. Their notable Experiment 4 collaboration sneakers are always sold out, meaning two things for us fashion enthusiasts: Either Pyer Moss and Reebok should make more or we have to live with the fact that some of us won't ever get a pair. The brand features tees, cropped hoodies, button ups, pants and outerwear like bomber & leather jackets that are not only modern today in men's fashion, but also displays the brand's ability to withstand the ever-changing fashion industry." – Anthony J.R.
Who Decides War
"Who Decides War is a menswear brand that I absolutely love due to their emphasis on highlighting design elements within their pieces! Ev Bravado is known for his eclectic way of conceptualizing messages within his hand-made jeans in a consistently refreshing way. Who Decides War has a custom-made feeling with each piece that effortlessly oozes with coolness. There's no wonder why Who Decides War is a cult classic that's here to stay." – Court Kim
Against Medical Advice
"Against Medical Advice is a brand that is "conceived out of the premise of rebellion against all the odds." There's an emphasis on educating the youth on the importance of healthcare. It is incredibly refreshing to witness the marriage of creativity and medicine come to life in a clothing brand. Wole Olosunde is a practicing Emergency Dept/Trauma RN whose love of fashion combined with his fascination with the human body, lead to the creation of Against Medical Advice." – Court Kim
OriginalFani ® Design
"OriginalFani ® Design is an Atlanta, Ga based streetwear brand that is dedicated to creating timeless essential pieces with his impactful OriginalFani graphic designs. Fani acquired his start in the creative industry as a lead graphic designer for MikeWillMadeIt and EarDrummer Records. His Santana Fan-dana is a signature scarf that can be seen on today's hottest hip-hop artists with its clean, signature logo graphic." – Court Kim
The Brooklyn Circus
"Often written as The BK Circus, Ouigi Theodore founded this menswear brand to tell stories through its production of pieces. During its inception, the brand emphasized the Harlem Renaissance aesthetic with blazers, wingtip shoes and other sartorial items but now established a more tailored casual look with wool baseball caps, tees and notably varsity jackets, giving the brand a more sophisticated collegiate look. Ouigi has stated that the clothes are "inclusive to all but is centered around Black culture, and our journey in the Americas and the world." At the core of BK Circus, Ouigi has mentioned a mantra he calls the 100 Year Plan, which is meant to create clothes, culture, and lifestyle that'll last. As the brand continues to open flagship stores around the country, their goal is to be the vintage of the community." – Anthony J.R.
Art Comes First
"Founded by Sam Lambert and Shaka Maidoh, Art Comes First is an art collective created in to circulate sartorial nourishment, oxygenating time-based projects through dynamic collaborations (Fashion, Art, Photography, Consultancy, etc.). When I started getting more involved in fashion, it was these two that inspired a little of what I have in my closet. Both from African cultures and backgrounds, they make sure to incorporate what it means to be black in all things they create. They've coined their outlook on their clothes as "very jazzy punk rock, a cultural and stylistic approach to fashion." When you shop their items, you'll see a very apparent theme in their pieces: Fedora hats, loafers, fashion tees, and a lot of statement pieces. You can always ensure quality over quantity when it comes to this collective and brand." – Anthony J.R.
Fear Of God
"Jerry Lorenzo stated that the name behind his brand, Fear of God was literal and that although Christ was at the center of his household, he was not always a God-fearing man. It's also important to note that this is not a Christian brand. This brand, over the years, has grown to serve different purposes in a man's wardrobe. Fear of God's collections exemplifies all things a man loves about street-style, distressed denim, leather jackets, fitted track pants, flannels, and more. "Essentials", the sub-brand of Fear of God, provides a more simplified and casual look. A couple of friends I know actually like to wear Essentials as loungewear or pull it off as an "airport fit" just because of how comfortable their pieces are. Fear of God's collaboration with Zegna, allows the brand to transcend into a more sophisticated and elegant direction on what they consider "American Luxury". – Anthony J.R.
Telfar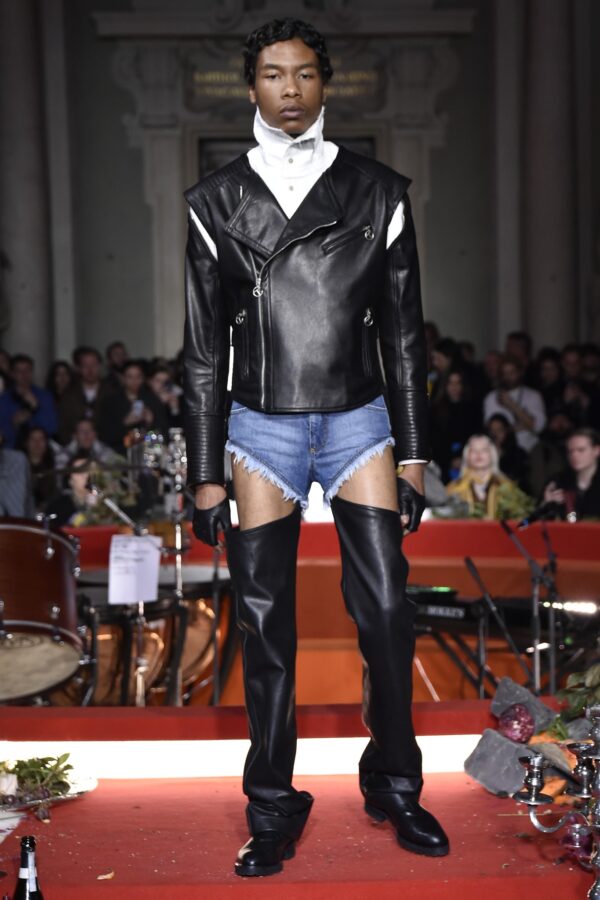 "Liberian-American designer Telfar Clemens has created a luxury brand that truly embodies the terminology of "THE Moment." Telfar's accessories are statement pieces that pay homage to effortless Black luxury in the 21st century. Clemens' highly-coveted "Buschwick Birkin" Shopping Bag has taken the world by storm with its luxurious design, diverse colorway, and its cost-efficient price point. Clemens' exciting approach to menswear exudes a glamorous yet structured feeling to all of his pieces." – Court Kim
Kenneth Nicholson
"Kenneth Nicholson is an American fashion designer who is dedicated to pushing the boundary when it comes to the idea of Menswear. According to Nicholson's website, 'worldly details, art history, and the precision of military culture' is the main reference point for his namesake label. Nicholson's usage of deep, rich colors in his designs gives his pieces an effortless regal aura that cannot be ignored. The textures and patterns of Nicholson's label intentionally giving buyers a worldly, wealthy feel to his clothing as well." – Court Kim