The power of music reaches far beyond the eardrums. It transcends time creating a spirit that lasts for generations and helps to heal on a cerebral level. It is key when navigating our complex array of emotions, and even more instrumental when investing in our wellness. With her expertise in yoga practices, writing, marketing, and brand building, Kathryn Leary kept music in mind when co-founding the wellness platform, OneFirelight. In her young adulthood, Leary found friendship and inspiration in Bob Marley, a pioneer of peace and reggae music. Today, a day after the platform's launch, we spoke with Kathryn Leary and Skip Marley, her musical collaborator, about music, healing, and their hopes for OneFirelight.
Leary describes OneFirelight as "an inspirational wellness platform that is designed to bring a healing energy, inspiration, and wellness to everyone who signs up for this workout app". They use music to support the experience, specifically, "soul nurturing" music from Bob Marley and the Wailers, his grandson, Skip Marley, and other conscious artists from the Blue Mountain Music catalog.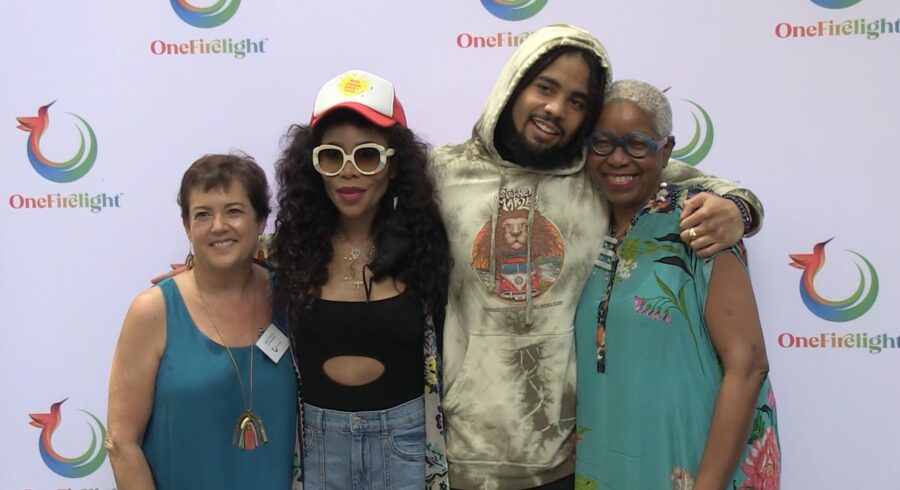 You mentioned that the idea for OneFirelight was born from Bob Marley's music. Why is music such an important element of this platform?
Kathryn Leary: Studies show that music has a benefit on brainwaves. It revitalizes your spirit, it connects to your cells in a very unique way. And I think Bob understood that. And I think that's why the music he created is still infusing people with energy to this day. To this day. I mean, you can go anywhere in the world and you'll hear "One Love", people know that song. So I think that music is just a critical aspect that brings a healing and a soul nurturing benefit.
I wonder if they feel it like I do/ I know there is more love than there is evil/ A war is just a waste of me and you

"Calm Down" Skip Marley
Skip, your grandfather's music has this lasting effect that Kathryn speaks about, the symbol of peace and unity. In making your own (Grammy-nominated, chart-topping) music, have you ever felt the pressure to continue that healing nature? Or is it just embedded in your lineage?
Skip Marley: It's not, you know. For us, it's a light. It's this message we have to carry forward. Just trying to reach new streets and new avenues and continue to inspire people to live and think positive. And be a benefit to their brothers and sisters in their community so we can build up our world in unity.
What do you think reggae music specifically brings to a wellness platform?
SM: Well it's all about the spirit of the music. So, reggae music has energy. It gives you drive, gives you upliftment, and a consciousness. It gets you more in tune with yourself, more in tune with the earth and your mind, body, soul, and spirit. You know, so I feel like reggae music is perfect for OneFirelight. And I mean, not only reggae music, just, there's a conscious outlook on life you know, the possibilities and message in the music and how much we can influence people to make change.
Your song "Faith" is one people gravitate to for that kind of messaging. What music from your catalog gets you centered in body and mind?
SM: Um, I would say "Calm Down", because sometimes I get worked up too (laughs).
Whether it's political or social, even environmental, a lot is going on in the world right now. Holistic healing is a practice often seen in Jamaican culture. Why do you think this approach is necessary for a wellness platform?
KL: Well, because it doesn't exist for one thing, and it's also infused. I mean, it's infused in the very beginning with Bob, and Bob was someone who really understood the benefit of nature. I mean, he was a farmer and understood about planting seeds. This is another way of planting seeds. We can plant the seeds of his music and his message of unity and peace and love through the workout experience. Why not?
I mean, you could do cardio workouts to loud blaring techno music, or you can do it to "Get up Stand Up". You could do pilates and yoga to "Calm Down" as Skip says. But, you know, it's what we need right now. We need something that's going to lift us on all levels. A lot of people don't like to work out, they do it because they know they need to, but if we can give them a way in which they can enjoy the experience, they can benefit on so many different levels, not just physically getting the heart rate up, but also getting a message. That's soothing for them, right?
SM: You get that relief, you know? It's not a chore, as a lot of people take it.
Good friends we have, oh, good friends we've lost/ Along the way

In this great future, you can't forget your past/ So dry your tears, I say

"No Woman No Cry" Bob Marley and the Wailers
Can you tell us about the name? 'One' I'm assuming comes from the message of unity and togetherness, but where does the 'firelight' stem from?
KL: Do you know the song "No Woman, No Cry"?
Of course, I do.
KL: In that song, Bob tells a beautiful story of growing up in Trenchtown of being in an impoverished situation. And there was this man named Georgie who would gather the youth together, make the firelight, and they'd sit around the fire. He'd make the cornmeal porridge and they would feel connected, they would feel a sense of community, they feel a sense of love, a sense of hope, a sense of possibility when they're in really difficult straits, you know, living in Trenchtown. We felt that we're in a time where people need hope, they need that sense of community, that sense of possibility, that inspiration to keep going forward. And we thought what better name than to just call it OneFirelight, one being unity as you said exactly right, but also the idea of all those things that that firelight represents.
What do you all hope to achieve with this platform and Skip, with your music after your debut success? What's next to come?
SM: Well, we hope for more music. We hope to awaken the minds of those that are sleeping and hope to awaken the consciousness of community. Brothers and sisters, you know. So as I say, we can build a world of unity and get through these things we have to get through while taking care of our health. Because that is the real wealth. Our health, mental, physical, mind, body, and soul. That is real wealth, so we have to take care of that. Can't forget that, can't leave it out.
KL: Indeed.
To learn more and move with OneFirelight, visit their website, stream "Changes" by Skip Marley or check him out on tour!
Follow MEFeater on Twitter, Instagram, Facebook, TikTok, and Pinterest for more updates!