During a Facebook Live interview with Galore Magazine,
Normani Kordei
from the girl group Fifth Harmony was asked to describe each girl in the group. Kordei said her group member
Ally Brooke
reminds her of "sunshine".
Lauren Jauregui
is like a "therapist" to her.
Dinah Jane
is "the turn up queen". But when it came on to describing group member
Camila Cabello
, she stumbled a bit and said "very quirky…umm cute".
This got some fans to think she dislikes Cabello or she was throwing shade.
Cabello struggles with anxiety, which caused her to not finish the group's September 2nd 7/27 tour performance in Missouri. She took to Snapchat writing "Hi Missouri sorry I couldn't finish the set last night. Was having too much anxiety and couldn't finish it. I love u. I'm truly sorry".
Combine the anxiety unfinished performance and the Galore interview, things got heated on social media causing some fans to choose sides Kordei and Cabello.
Which lead to cyber bullying and racist comments towards Kordei. Causing her to announce to her fans that she will be taking a break from Twitter.
Normani expressed her feelings via Twitter:
To my fans: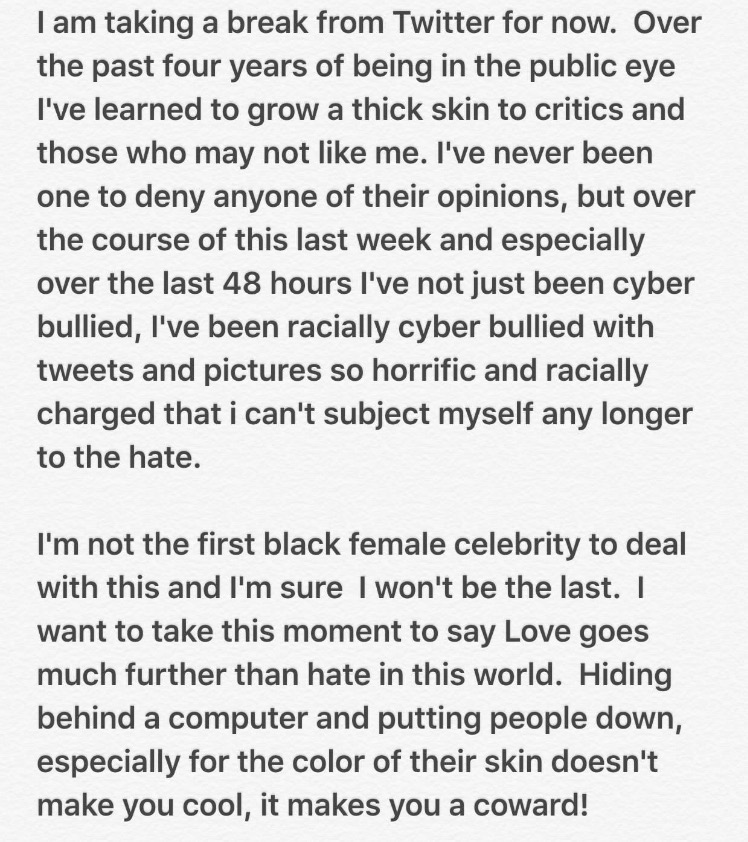 Thoughts: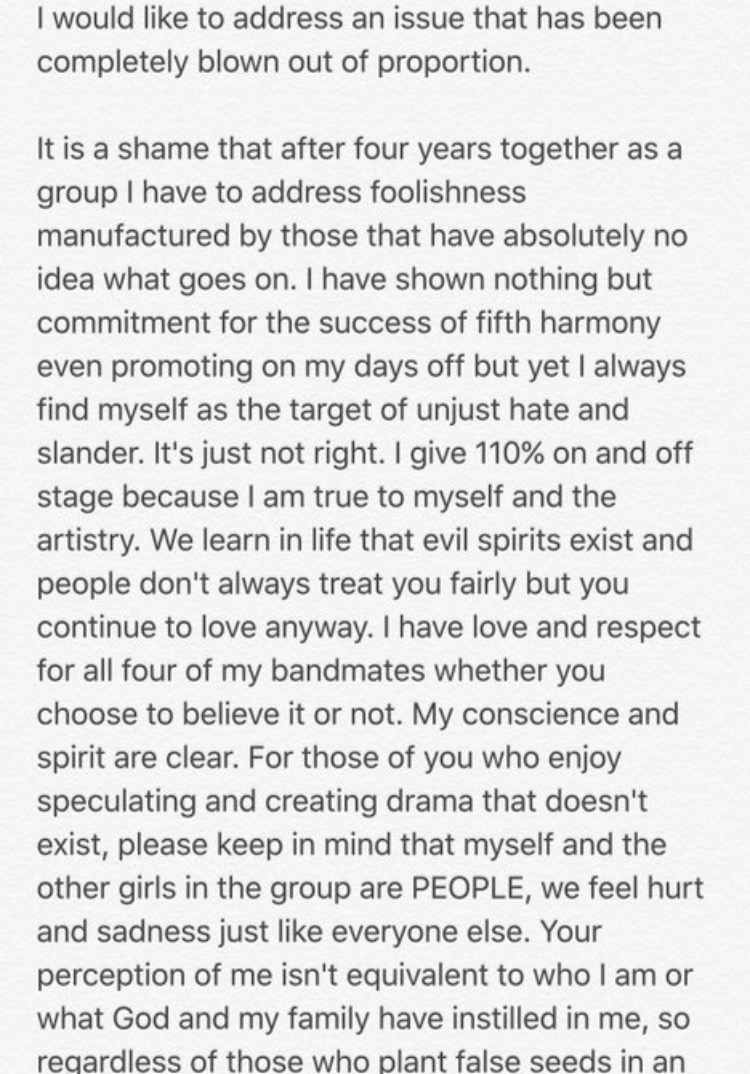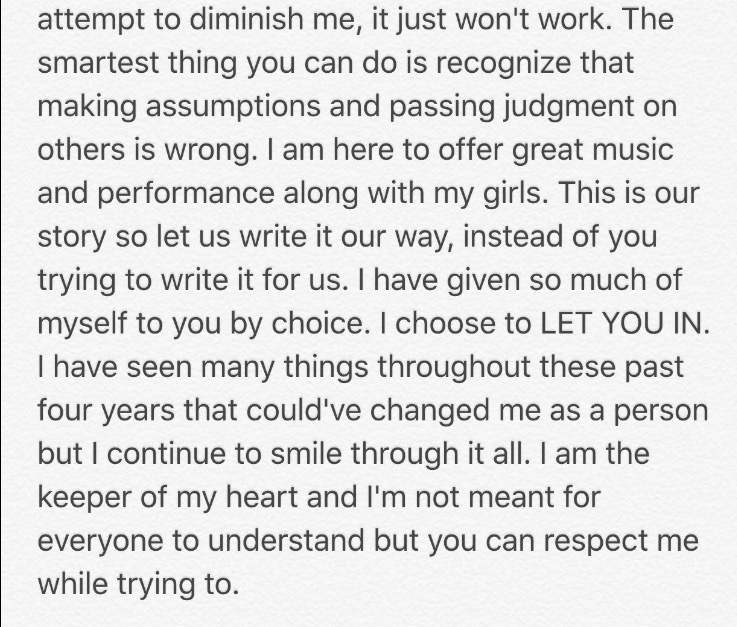 Unclearly if related to the current feud Cabello wrote on Twitter: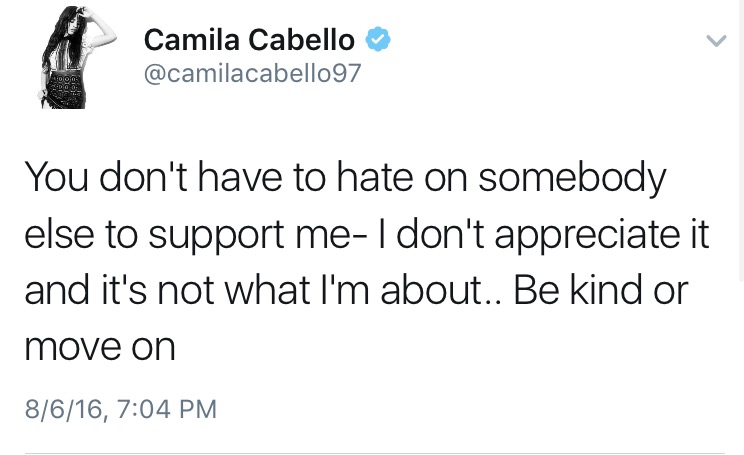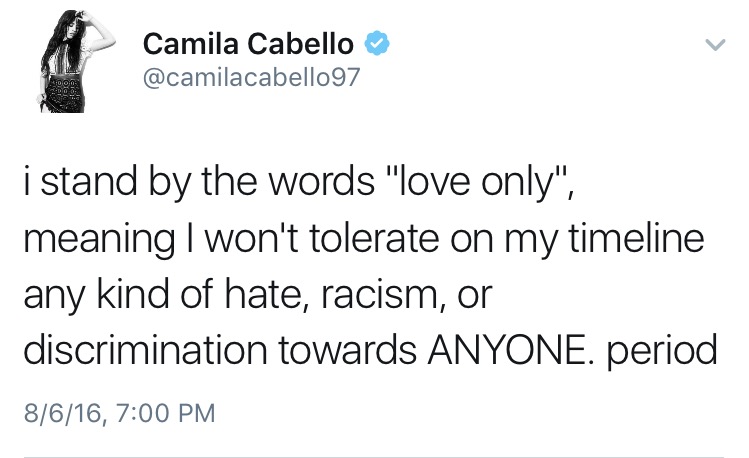 There's always a story about group members feuding. Someone being to high maintain/difficult to work with but this seems to be a misunderstanding.
If there's no personal feud between the girls. Would it be a good career move for Normani to go solo?
Considering the group was only founded four years ago and competition wise they aren't many girl groups out. It would be much harder to have a solo career without having a lot of solo projects before hand. Not to only make her stand out from her group members but to see how successful she would be.
Beyoncé started her music career in the girl group Destiny's Child, which had its own struggles with group members. Before splitting from the group in 2006, Beyoncè took a risk with her solo career. By starring in the third Austin Powers movie "Goldmember" along side Mike Myer in 2002 and releasing her debut album, Dangerously in Love in 2003.
A few more years in the group might be the ideal for Normani Kordei, considering she hasn't released solo projects. To measure how successful she will be without being apart of Fifth Harmony.