Mixtapes are everywhere, but Screwberry Sunshine by Brooklyn White and Don D stands out from the rest.
Don D is a Connecticut based producer who is best known for his work with Kari Faux, Stalley, and for being apart of the Northern Lights trio. Brooklyn White is an accomplished visual artist who has been featured on Dazed's Next Generation of Female Artists and published in Teen Vogue and Galore Magazine. Both of their resumes are much longer, but let's focus on their mixtape.
Screwberry Sunshine mixes expansive lyrics touching upon sexuality, individuality, feminism, and much more with cool vibes and beats. The two creators are amazing artists but also inspiring.
Q: What is the overarching message of the EP?
Don D: The overarching message of the EP is basically, be different. Just because everybody is zoning in on a particular sound, doesn't mean you have to follow suit to get noticed. We also focus on unity and feminism.
Q: What was it like working with one another?
Brooklyn: Working with Don was a lot of fun. It was laid back. I feel like certain recording situations are too formal because you're working on a time schedule, you have a rigid vision, and you're trying to get stuff done. With this project though, it was relaxed because we're actually friends.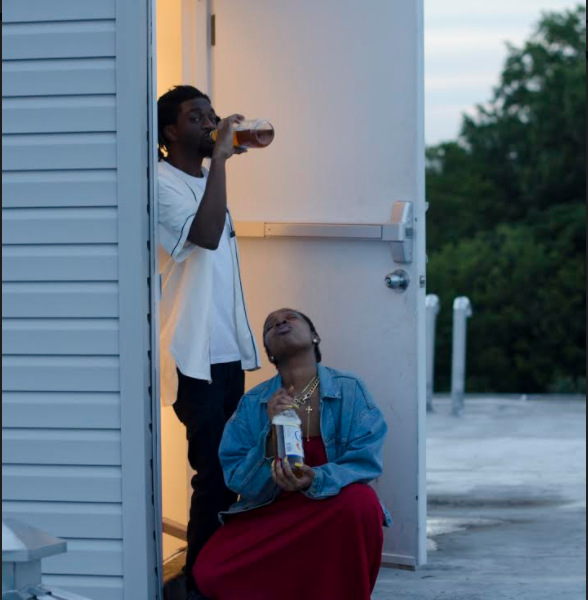 Q: How did you start producing?
Don D: I started producing out of boredom. When I was in college, I was so bored because I had no friends, I'm from Connecticut and I was in school in North Carolina. I basically just looked into Fruity Loops and started making beats. Little did I know that I was right on time. That next year, I was a part of the the first Hip Hop-based college course in America, which was added to Harvard and Duke's curriculum as well, but it started at my school. 9th Wonder was my teacher. That really inspired me and I started making beats more.
Q: What does the title [Screwberry Sunshine] mean?
Brooklyn: I'm into strawberries because they symbolize love, femininity, and they're incorporated into a lot of different legends and folklore. I'm a history buff. Even though strawberries, as we know them, are native to America, there are different kinds of strawberries all over the world. So, coming in with that concept, I was like "alright, we've been working on this project for a week or so, we should come up with a title for it." Having a title really ties everything together and makes it cohesive. We had a few different titles and Screwberry Sunshine stood out so we went with it.
Q: How do you want to inspire people?
Brooklyn: I want to inspire people to not be afraid to experience pain. I feel like in today's culture, it's not cool to experience hurt. Everyone's like "I got to be a savage", "I'm not sad", or "I don't feel shit". But I want to inspire people to be unafraid to experience hardships. That's how you grow, that's how you get better, that's how you change, that's how you learn. You can't go through life avoiding pain.
Don D: I want to make sure everybody knows that it's okay to be yourself. When you are yourself, you get noticed. If you want to do something, or if you're trying to reach a goal, just be you. Nobody can be you but you. Nobody grew up how you grew up or lived your life, so your story is different from anyone else's.
Catch Don D on Twitter, Instagram, and Tumblr!
Catch Brooklyn White on Twitter, Tumblr, and Instagram!